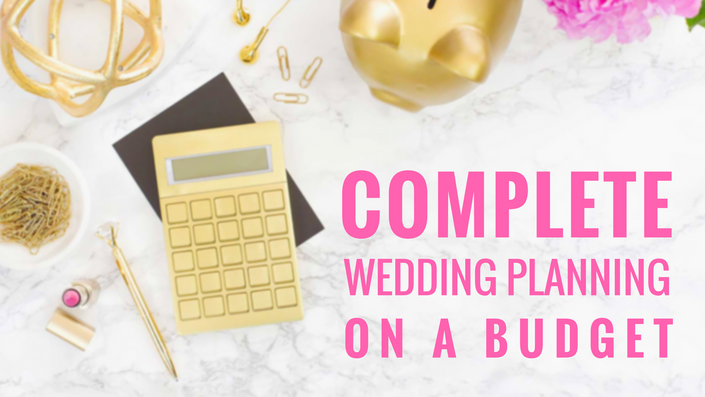 Complete Wedding Planning on a Budget
a step-by-step guide for planning your awesome wedding on an affordable budget!
Planning a wedding is hard, even when you've got tons of cash to throw at people who can make things happen.
When you're planning a wedding on a small budget, it gets even more difficult! There are a lot of personal stories, books, planners and online resources that throw piles of information at you when you're taking your first steps toward planning your wedding - it's overwhelming! You can get swallowed up by the amount of 'Must Do' and 'Can't Have a Wedding Without' suggestions, without feeling like you can make the decisions that are right for YOU.

How about something that makes it a little easier? No information overload, just what you need to get started and keep moving along the wedding planning process. The Plan Your Wedding on a Small Budget course is a step-by-step, work-at-your-own pace course that you can skip around and complete as it suits your needs.
This course will help you plan your amazing wedding at the budget you can afford.
For a complete list of everything this covers (hint: it's everything!), head over to the curriculum page. Here's a brief overview (I wasn't kidding when I said a wedding is complicated!):
The First Things To Tackle
Four things you MUST do after getting engaged

Determine your Total Wedding Budget without stress
Set your wedding priorities easily

Setting the wedding date to maximize savings

Essentials for your wedding website and registry
Big Day, Little Details
Get the best deals on ceremony and reception venues
Negotiate with wedding vendors the RIGHT way

Find the perfect wedding dress without panic

Design a meaningful ceremony
Choose the BEST meal and bar options for a cheaper wedding reception

Pick wedding flowers that don't break the bank

Decorate on a dime

Consider what rental items you need – and which ones you don't

Get the best option for wedding insurance

Look great without spending a fortune on hair, beauty and accessories
The Very Important People
Select your guest list for the best wedding day

Invite guests to your special day the inexpensive way

Who should be in your bridal party and what are they supposed to do?

Decide who sits where at the reception for maximum fun and minimum drama

Get guests to RSVP on time
The Only Thing That Matters
Planning the big day order of events without going crazy

Delegate wedding day responsibilities

Get hitched without a hitch!
What Happens Next
What you need to do before going on your honeymoon

Change your name without the runaround

Thank everyone who helped and celebrated appropriately
If you are planning your wedding on a small budget, you can't afford NOT to take this course!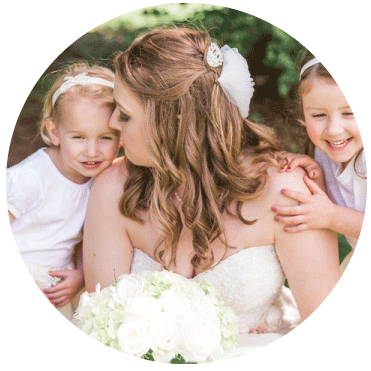 Tanya from Washington says:
"I followed your budget wedding planning tips for the last year while planning my wedding and they helped me save a ton of money! My wedding turned out fun, personal and super affordable! Thank you so much for your tips – it really made a difference for our wedding!"
Becca from Arkansas says:
"One of my favorite parts of the course so far is the little bits of encouragement along the way! Stuff like, "it's your wedding, do it your way!" Or, "don't invite people out of guilt." Just the little bits of encouragement and advice are so helpful to put things in perspective or to put in words how I have been feeling about the process so far! I also really love all the spreadsheets and checklists, because I am a super organized person, but the prospect of making all those sheets myself is pretty daunting!"
Adriana from Brazil says:
"I really liked what I've seen in this course. The way I see it, I take what resonates with me and leave the rest, trying my best to not feel overwhelmed with the details that you offer. I love that your content is very thorough."
Stephanie from North Carolina says:
"I enjoyed reading the positive message. Too often people talk about stress when planning a wedding and you made it so exciting. I enjoy the honesty and realism shared through the course content."
---
These courses may contain affiliate links. If you click on an affiliate link and buy something, I may receive a very small commission. It does NOT result in additional charges to you or cost you anything extra. Mentions of associated products/services/businesses within the content of my blog may or may not be noted as an affiliate in every reference. The affiliate money I earn per month helps pay the fees to keep this site up and running. Thanks so much for your support!

Your Instructor
Hi! I'm Maigen Thomas, and I've been writing about wedding planning since 2006. I've published several books that have sold over 50,000 copies (see below).
I. Know. Weddings.
I am the Editor-in-Chief as well as a features writer for Wedding for $1000 - a website dedicated to helping brides and grooms on a budget plan the wedding of their dreams. I have been featured on various radio shows as well as on websites like USAToday, ValuePenguin, ThePennyCounter, and US News & World Report.
Since I first started writing about wedding planning on a budget, I've planned (or helped my friends plan) a dozen weddings, and have spent countless hours researching how to pull off an amazing wedding on an affordable budget.

My goal with this course is to help everyone afford to plan a budget wedding - even without a wedding planner! I'm going to be your wedding planning BFF for the next few months while we work together planning your amazing wedding.
My publications include:
Wedding for $1000 - Getting Started Planning a Wedding on a Small Budget
Planning a Wedding on a Budget - Top Money-Saving Tips
and my very first attempt at publishing:

Course Curriculum
Welcome!
Available in days
days after you enroll
Module 1: We Just Got Engaged! Now What?
Available in days
days after you enroll
Module 2: Planning a Wedding - the First Steps
Available in days
days after you enroll
Frequently Asked Questions
When does the course start and finish?
The course starts now and doesn't end until you're done planning your wedding! It is a completely self-paced online course - you decide when you start and when you finish. It is totally up to you how much time you dedicate to completing the modules, which depends on how much time you have for wedding planning.
How long do I have access to the course?
There are multiple pricing options to allow you the greatest flexibility in both your budget and your time. Please see the pricing page for details!
Do I need to purchase any additional materials?
You don't *need* anything except Internet access and dedication! All course materials are available online and there are no additional costs involved in completing the course. There are some forms that you can either download and print or use on your computer, whichever you prefer. There are some suggested materials which you can purchase, though none of them is in any way mandatory. Each of those suggested materials will also have an option for how to accomplish the same goal with free materials.
Do I need to download any special software?
Absolutely not! The course is available online and course material is stored on our server or on your local computer as a PDF, so you do not have to download any special software. You can complete your course on any device, Desktop PC, Laptop, iPhone, Android, iPad.